Check Why Nigerian women are makeup-obsessed. See full story
If you ask different women why they wear makeup, sure they will give you different answers. The question therefore is, why do women spend so much time on makeup?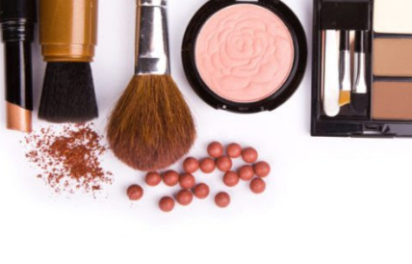 Make-up kits
Inordinate time on make-up
Getting the right answer might be difficult. Some women spend less than 30 minutes on makeup while others spend more. Some young people especially in their mid- 20s spend quite some minutes to make up.
Those who spend less than 20 minutes are rare. Woman's Own went round the city to speak with some women on why they prefer to spend the best of time on makeup.
According to them, it is not out of place to spend quality time on looking beautiful. The point is that every woman has her reasons for wearing cosmetics or looking beautiful.
It would interest you to know that some classy women also spend quite a fortune on makeup without an iota of regret.
Makeup is not a recent invention. Women and men wore makeup in ancient cultures, such as Egypt. While the use of cosmetics has changed over the centuries, today in societies the world over, women are the main buyers and users of makeup.
They never get tired of wearing beautiful makeup. According to them, some women cannot imagine facing the day without makeup on their faces. In extreme cases, women won't allow anyone to see them without their faces made up for the day, including their own husbands!
Confidence?
A banker, Miss Funke in one of the new generation banks told WO that makeup makes a woman gain more confidence.
According to her, "Many women who go to functions or parties gain more confidence with makeup. This can range from a light application and lip gloss to a face complete with foundation, powder, blush, eyeliner, eye shadow and several coats of lipstick. The amount of makeup that makes a woman feel confident varies.
"To some teenagers, makeup is pertinent because it makes them look mature. "Teenage girls often wear makeup because they want to appear mature and smarter. While many teens only need lightweight cosmetics such as powder, mascara and lip gloss, others want to experiment with all kinds of cosmetics.
Eternal youth
"On the other hand, some women who have passed a certain age rely on makeup so as to appear younger. Some cosmetics claim to soften wrinkles or reduce fine lines. With skillful application, women can erase years from their faces.
"Another reason is that, for some women who have complexion issues, applying make up can help reduce skin problems and make the skin clearer. Foundations can smoothen your complexion into an even-toned canvas. Makeup is great for creating the illusion of perfect skin if used the right way," she said.
Different looks

Makeup is something that can look different on everyone. Some people can pull off a dramatic look, while others may think that it looks ridiculous on them. However, there are a number of looks that everyone can wear, no matter their makeup application skill level. All that is required is the makeup itself.
A makeup artiste, Ms Remi, explains that makeup is what is in vogue. "People would not go out without a proper make-up. Some people would go as far as looking like the bride of the day. Basically, people make up so as to look gorgeous as well as draw attention of people at any occasion", she said.
On why she became a makeup artiste, she said it was what she wanted to do. "I like fashion and it is part of the style. You cannot be properly dressed without you having the right accessory which makeup is a part of.
"I have been a makeup artiste for three years and I have gotten different kinds of patronage. Most times, patronage is not regular. There are times you do not even get a job to do," she noted.
"There are different kinds of makeup. The way you make up for guests of a wedding is not the same with that of the bride. There is bridal makeup, the engagement makeup is different from the white wedding makeup. The engagement makeup is always louder than the white wedding which is lighter in nature.
"Some people like loud makeup while others prefer lighter one. If people request for a makeup that would not go with their faces, as a professional, you must explain why they should not indulge in such makeup. Sometimes, some customers tell you what they want and there are times some would tell you to use your creative idea for them.
"There are makeups that take up to one hour, some are done within two hours. There are some that you do within 30 minutes depending on what you are doing," she continued.
On what her advice would be to women who make up, she said, some customers are open-minded while some are adamant. But, as a professional, you try to advise people on the kind of makeup they should wear and not force it on them.
Enjoy this journey of beauty and wellness – Psychologist
A Clinical Psychologist of the Department of Psychiatry, University of Lagos Teaching Hospital, Idi-Araba, Lagos Dr. Juliet Ottoh, also speaks on makeup and the woman's world. According to her, makeup has to do with one's psychology as well as the level of exposure.
Her take on makeup and the woman's world
Creativity among women is something that attracts less attention for social psychologists. God has endowed women with natural beauty but as to their interaction with their social world, they find themselves consciously and unconsciously want to look extraordinarily beautiful by applying makeup. It is not a mistake that God created women in a special way, of course, to complement men. The consciousness among women cuts across both the old and the young, married and unmarried. It is therefore an incontrovertible fact that makeup is part of the dressing code of women. Women who feel indifferent about makeup on the assumption that God has made them beautiful and therefore do not need any artificial makeup, may be living in self-denial and are caught up in the clash of civilizations.
Is there any psychological explanation on why women make up?
Psychologists believe that makeup enhances women's personality. The personality of women is not about physical appearance or natural beauty but the way the woman "packages herself." It is erroneously believed that women with low self-esteem wear makeup. This is not correct. In fact, makeup has a way of bringing out the beauty in a woman. A woman with low self-esteem experiences feelings of worthlessness, inadequacy and inferiority and attracts self-pity. This category of women can build confidence by learning from women who have been acculturated in the new world of fashion.
This is why social psychologists believe that makeup gives women confidence. Interestingly, men who are fashion-conscious acknowledge a woman that wears perfect makeup. In most beauty pageants, men who are selected as judges take a critical look at the combination of colours and how they blend with the colour of the of skin of the contestants.
A woman's interest in her appearance is socially learned. From evolutionary past, women competed for physical attractiveness. Social learning is thus part of the evolutionary process. Feminine psychology and behaviour include taking more interest in their appearance. Critics of the biological perspective argue that women are forced to present themselves as desirable objects because they lack social power. Thus, a woman's appearance is important and is held to a high standard.
Does that explain why women tend to spend so much time on make up?
It is imperative to understand generally why women spend time in the mirror looking at themselves. In a recent thread posted to Reddit's beauty-obsessed sub-Reddit/Makeup Addiction, a curious user wrote: "I spend about an hour on my face when I do my makeup." This attracted over 100 comments, with responses ranging from, well, five minutes to two hours. Women do this because of the following reasons: Women do this because they want to appear beautiful to people they come across.
Most importantly, we must not overlook the fact that physical appearance and how we take care of ourselves play an important role on how we are perceived by others. To help you decide if wearing makeup is right for you, we can discuss the advantages and disadvantages.
Are there merits derived from make-up?
Studies have shown that wearing makeup has some positive impacts on women in the workplace.
It is an undeniable fact that makeup does the magic as it helps create a favourable impression at the first encounter. Although appearance can be deceptive but it is good to create a positive image about one's self by appearing as a complete woman. We only get one chance to make a great first impression.
If we feel good about ourselves, we exude self-confidence. When a woman is complimented because of the way she appears, it raises her self-esteem.
Makeup shows that women care about themselves and people tend to pay attention to them.
It's fun to explore makeup skills. Applying makeup is an art, and like any art, it is fun to express who women are as they explore their creative skills. Putting makeup on the face is like painting a canvas and creating a beautiful masterpiece. Your paintbrushes, eye shadow, concealer, and lipsticks are the colourful palettes always handy at all times.
What are the disadvantages or side effects of wearing makeup?
Spending a lot of money on makeup.
A MINT study indicates that an average woman spends $15,000 as at today's rate N5,500,000 on makeup in her lifetime. The makeup kits are very expensive such as the concealer if your skin needs covering up or you may want to explore the various lipstick and eyeshadow colours or have good quality makeup brushes.
Time: When women are at their makeup table trying to get the right perfect blend, it takes time which is a loss of man hour.
Allergies
Some makeup products may cause an allergic reaction. A study by Skintelligence found that 1 in 4 people are allergic to substances in skincare. The prevalence of some of the terminal diseases are often associated with chemicals. The way our body reacts to certain things are different, therefore, it becomes advisable for women to know the type of makeup that is compatible with their skin.
This will mean spending a lot of time experimenting with different products and observing your skin's reaction, which may be a hassle.
Stress
You may be in constant worry about your appearance due to the obsessive selfie culture. Once you get yourself attached to wearing makeup, it becomes an addiction and obsession, posing stress, especially when it becomes a daily ritual. The caution is that one should not see it as a daily ritual, hence the need to strike a balance.
In conclusion, makeup has the power to make you feel like the real person you want to be: confident, agile and charming, always appearing presentable.
Perhaps, wearing makeup can be a major investment of your time, money, and effort. Enjoy the process of discovering your looks if you decide to embark on this journey of beauty and wellness.
If your daily regimen lasts as long an episode of Scandal. Everyone has a unique sense of individuality and we are all beautiful in our own special way.