SEE HOW THIS DAD TRICKED HIS DAUGHTER TO DRINK MILK IN HIS WIFE'S ABSENCE (PHOTOS)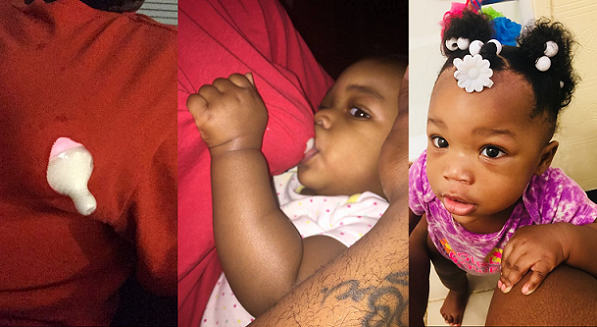 SEE HOW THIS DAD TRICKED HIS DAUGHTER TO DRINK MILK IN HIS WIFE'S ABSENCE (PHOTOS)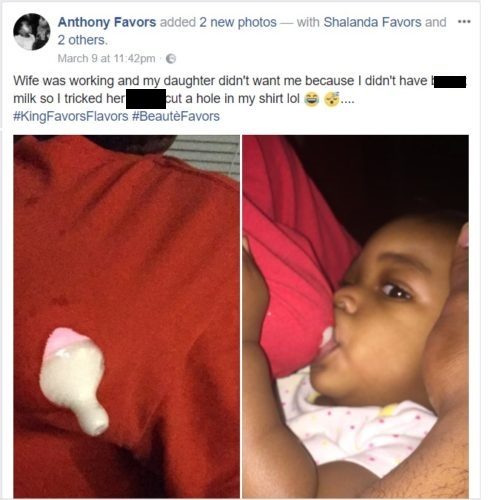 A Facebook user named Anthony Favors just took to his account to reveal how he babysat their kid in his wife's absence;
Wife was working and my daughter didn't want me because I didn't have breast milk so I tricked her lil ass cut a hole in my shirt lol 
….
see some reactions below;
Amaka Okpara Some dad are hilarious..
I need such a man in my life, who can go to any length to see to it that the family is happy.. No matter how much or how small we may hv.
Simon Simons U are really a great man, and not to talk of a been a wonderful heart-warming Daddy u are one in a billion and others should take example from u.
Toochukwu Michael The child suppose code because for breast milk, the taste is the difference and the difference is in the taste..am speaking from my childhood experience please..
Umukoro Onos Peter This man should be arrested for illegal feeding a baby 
, with a man made breast, Sub section 78 in the constitution of Nigeria he sho
Bianca Okoye Wat a caring Father u are, some wil not find a way to calm the baby instead they wil be shouting , wat is stil keeping u there, hv u nt done yet , biko come and carry dis baby she is hungry
Bla bla bla